School Information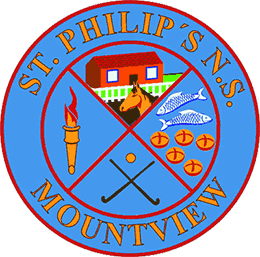 Location
Our school is located in Mountview Road, beside the Parish of St. Philip the Apostle, just a few minutes from the Blanchardstown Shopping Centre.
If you need to find directions from other points, please check Google Maps
Our uniforms
School uniform is worn three days each week and School Tracksuit two days each week.
Our school uniform is:
Grey trousers/skirt/pinafore (elasticated waistbands on trousers if possible)
Blue shirt
Red tie
Navy jumper/cardigan
Shoes should be Velcro fastening if possible
Our Crest:
The house, horse and fence are symbols of the origins of the site on which St. Philip the Apostle Schools were built. The original site housed a stud- farm.
The loaves and fishes signify the life of St.Philip the Apostle, Patron Saint of our school.
The hurling sticks and " sliotar" represent St. Philip's Junior and Senior schools' interest in sport and fitness
The lit torch is an emblem of the vision of education at St.Philip the Apostle J.N.S., which is to give enlightenment to all our pupils.
St. Philip the Apostle JNS, Mountview Rd, Coolmine, Dublin 15, Ireland Telephone: 01 8212992