Active School Flag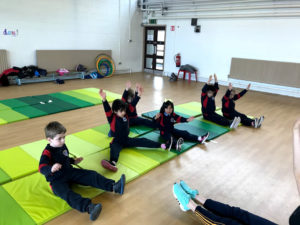 Physical Education:

The PE programme in St. Philip's JNS covers five strands – Athletics, Dance, Gymnastics, Games, and Outdoor and Adventure activities. There is a balanced approach to the teaching of all five strands. Each strand is covered every year and all children have access to all five strands. A detailed breakdown of what is covered can be seen in the table below.
Each year St. Philip's JNS place a special focus on one strand in particular. For the 2017/18 school year we are shining a light on the strand of Gymnastics. Our school held a 'Jersey Day' to fundraise for new Gymnastic mats. Coaches from ABC: Sports came into the school to share new ideas with teachers on how to teach Gymnastics as well as developing the children's Gymnastics skills further.
Strands
Strand units
Athletics
• Running

•Jumping

•Throwing

•Understanding and appreciation of athletics

Dance
• Exploration, creation and performance of dance

•Understanding and appreciation of dance

Gymnastics
• Movement

•Understanding and appreciation of gymnastics

Games
• Sending, receiving and travelling

•Creating and playing games

•Understanding and appreciation of games

Outdoor and adventure activities
• Walking, cycling and camping activities

•Orienteering

•Outdoor challenges

•Water-based activities

•Understanding and appreciation of outdoor and adventure activities
Our PE Programme is constantly being updated to make sure we are always providing best practice PE delivery in our school. Our targeting of the Active School Flag has required an audit of our PE programme. This examination has helped us improve our provision of Physical Education. Here are some key elements we focus on:
We prioritise one strand each year for further development. This year = Gymnastics
We discuss each child's PE development in parent teacher meetings
Our staff attend PE specific CPD courses
We carry out a PE audit at the start of the year where we dispose of all old equipment.
All our equipment and resources are clearly labelled, well organised and easily accessible. We make maximum use of this equipment.
We use the PSSI lesson plans to enhance our lessons.
We have introduced PE homework at certain times of the year (eg. during ASW)
We have zoned the yards and placed PE equipment in each zone for use during yard breaks.
We place more focus on integrating PE in the classroom through physical activity awards and physical activity breaks
We ensure that pupils are provided with at least 1 hour of PE a week.
Photos of coaches from ABC: sports teaching Gymnastics during ASW:
Physical Activity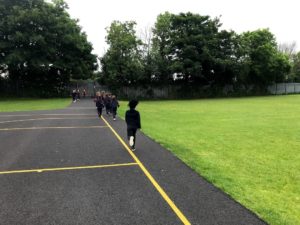 Pupils at St. Philip's JNS take part in many fun activities throughout the week to stay active. A typical school day is regularly revitalized within the classroom with physical breaks such as dance, yoga, aerobics, stretching. These regular activities and exercises help boost energy levels and help to refocus the children's brains for further learning. This is especially important on rainy days and movement breaks are extended on these days. Out on yard we encourage the children to "Do your walking as you're talking!"
We have many initiatives in place to promote physical activity throughout the school day and school year. These include two outdoor breaks per day, yoga classes, zoned playground games throughout the week, 10 @10, the Active Walkway, our new playground markings, after school clubs (Basketball, GAA and Athletics), music at break time and our running initiative. We carry out seasonal active calendar events such as a Halloween disco, Santa Dash at Christmas, a St Patrick's Day parade and an Easter Egg hunt.
Running Initiative
We are currently working together to run the distance between Dublin and Galway (176km). Each class has to follow the Active Walkway trail (1km) and the completed kilometres are added up at the end of the week. Keep an eye on the Active Flag noticeboard to see how far we've ran!
Active Walkway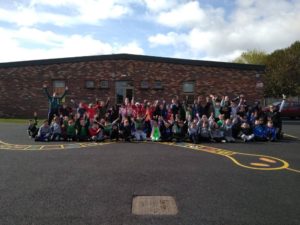 The launch of our Active Walkway was a great success. We held a jersey day to mark the launch and money was raised for new gymnastics mats. Thanks to all who contributed money and well done to those who completed the 1km walk!
Yoga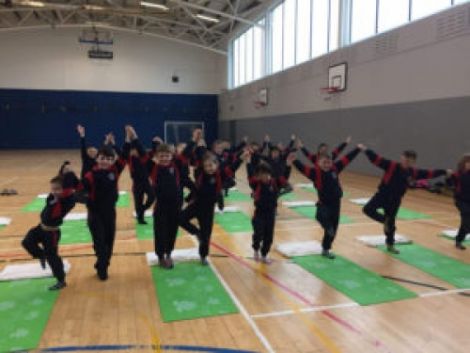 Many thanks to our yoga teacher Theresa who taught First Class lots of yoga moves and stretching over the last couple of weeks.
Active Playground Zones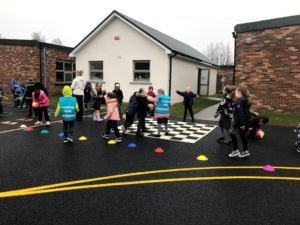 Children have enjoyed playing with a variety of PE equipment at break times over the past few months. Activities in the zones include hula hoops, skipping, throwing and catching balls and frisbees. The active school leaders are in charge of setting out the active zones at the start of yard time and collecting the equipment at the end of yard. At the end of yard, when the children line up the Active School Committee go to the front of the lines and carry out different exercises for the children in the lines to copy while they wait to be collected by their teachers.
Music at Lunch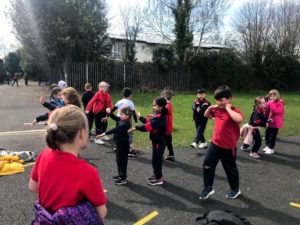 Children have been practising their best dance moves at break times. Dancing to the Macarena is one of our favourites!
10 @ 10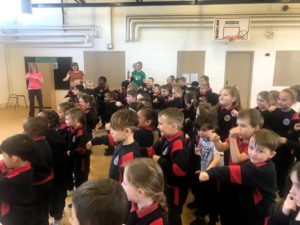 In our classrooms we like to take 'Bizzy Breaks' from our work- this helps us re-energize and refocus on our studies afterwards. Ms. O'Hare led a whole school 10 @ 10 in the P.E. hall during Active Schools Week- we all had great fun. Well done to all the teachers and parents who got involved too!
Halloween Disco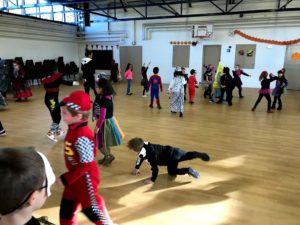 We held a Halloween Disco in October to raise funds for our school. We saw lots of great costumes and dance moves!
Santa Dash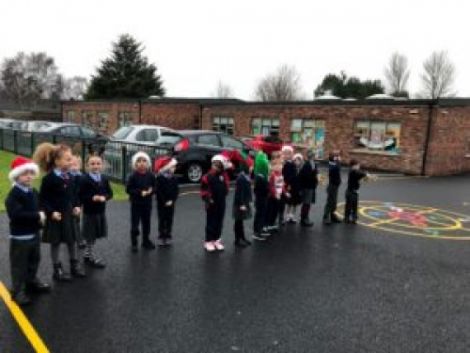 This year Santa made an appearance at St. Philip's JNS and we had great fun running around the school yard in our Christmas outfits. It was a great way to get into the Christmas spirit.
Easter Egg Hunt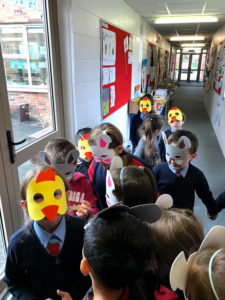 At Easter, many classes took part in an Easter Egg Hunt. They had lots of fun solving clues around the school grounds and eating the yummy chocolate eggs!
After School Club: Basketball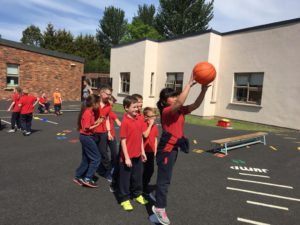 Second Class children have been busy over the past few months working on developing their basketball skills. Many thanks to Ms. O'Hare and Ms. O'Hora for facilitating the club.
Partnerships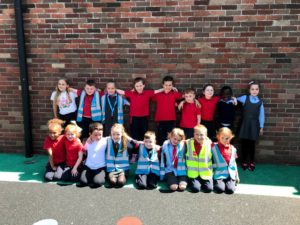 Meet our Active Schools Committee.
They have been working very hard towards achieving our Active Flag this year. Here are some photos of us at a meeting.
St. Philip's JNS works with many local community organisations throughout the year. We work with St. Peregrine's GAA club, Operation Transformation 10@10, Fingal County Council Strength and Conditioning, Yoga with Theresa and ABC Sports.
The Results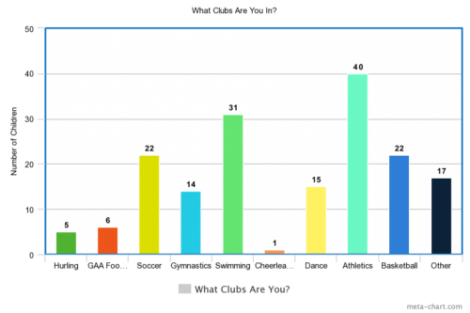 A survey was undertaken to find out what after school clubs the children in our school take part in. Here are the results:
Active Flag Art Competition Winners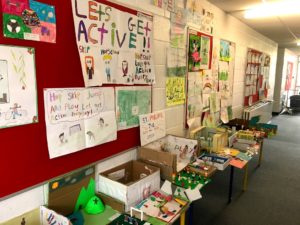 Here are some photos of the wonderful entries for the art competition. Well done to everyone who participated!
Active Schools Week 2018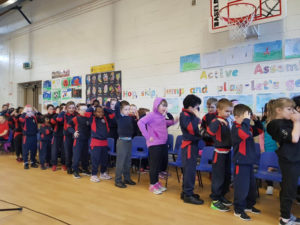 Active Schools Week took place the week of the 16th-20th April, 2018.
During ASW the active zones in the yard were launched which give the different year groups a chance to use PE equipment in the yard during yard time such as skipping and playing with balls, hole hoops and frisbees. The equipment on the yard will be changed on a monthly basis. The ASF committee are in charge of setting up the zones at each big break during the week. Physical activity was given as homework throughout ASW:
Monday: Go for a walk
Tuesday: Play football
Wednesday: Throw and catch
Thursday: exercises squats x10, jumping jacks x10, high knees x10
Friday: cycle your bike/dance to your favourite song!
Music in the yard was also launched during ASW and will continue to be played during yard time for the rest of year to encourage movement and dance during yard time.
We also had an Active Assembly which Senior Infants led. Each senior infants class showcased an active dance and active poem. The rest of the school (pupils and teachers) and parents were all encouraged to take part. Our winning ASF slogan was announced: "Hop, Skip, Jump and Play – Let's Get Active Everyday!" An art competition was then held where the children were encouraged to create a 2D or 3D art piece. The winners from each class won a sporting/active prize such as basketballs, rugby ball, football, skipping rope, golf set, baseball set, cones and frisbees. The overall prize for the 1st and 2nd classes was swing ball and the overall prize for Junior Infants and Senior Infants was a basketball net.
10@10 took place each day during ASW by all classes.
ABC: Sport came into the school for the day to teach new gymnastics skills to Senior Infants and 2nd class.
Yoga was taught to the staff members and 1st class. Yoga mats were left out in the soft play area for the week and each class was timetabled to take part in yoga outside.
An obstacle course was laid out on the grass pitch in the school and each class was timetabled to have a go at the obstacle course.
Basketball was taught to 2nd class.
GAA was taught by the GPO from St. Peregrines GAA to Senior Infants and Junior Infants.
Athletics was taught to Senior Infants.
Active Homework was given throughout ASW.
St. Philip the Apostle JNS, Mountview Rd, Coolmine, Dublin 15, Ireland Telephone: 01 8212992